Spot-on Treatments for Cats: Benefits, Features, and Proper Usage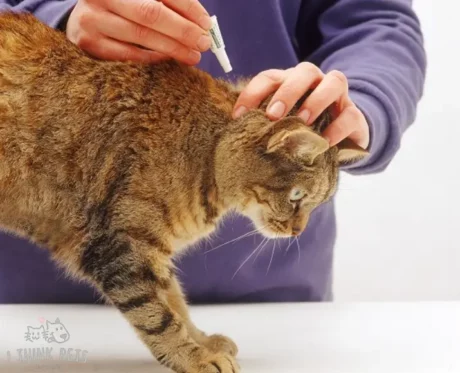 Spot-on treatments for cats have become a popular choice for protecting our feline friends against pesky parasites. These topical medications offer several benefits, including effective parasite control, convenience, and ease of application. In this comprehensive blog post, we will explore the benefits and features of spot-on treatments for cats. We will also provide guidance on their proper usage to ensure the well-being and health of your beloved cat.
What are Benefits of Spot-on Treatments for Cats ?
Comprehensive Parasite Protection: Spot-on treatments offer a broad spectrum of protection against various parasites, including fleas, ticks, ear mites, and certain types of worms. This comprehensive coverage minimizes the risk of infestations and related health issues.
Easy Application: Spot-on treatments are designed for easy and convenient application. The topical format allows for direct administration to the skin, typically between the shoulder blades. This method ensures proper absorption and minimizes the chances of ingestion by the cat.
Long-lasting Effectiveness: Many spot-on treatments provide extended protection, ranging from one month up to several months, depending on the specific product. This reduces the need for frequent applications and ensures continuous protection against parasites.
Features of Spot-on Treatments for Cats
Flea and Tick Control: Spot-on treatments target fleas and ticks, effectively killing them and preventing re-infestation. They disrupt the life cycle of these pests, which helps in controlling their population in the cat's environment.
Parasite Prevention: Spot-on treatments may also protect against other parasites, such as ear mites and certain types of worms. They help prevent infestations and reduce the risk of related health problems.
Waterproof Formulations: Some spot-on treatments are designed to be water-resistant, allowing cats to maintain their protection even after exposure to water, such as during baths or outdoor activities.
Multiple Parasite Protection: Certain spot-on treatments offer multi-parasite protection, safeguarding cats against fleas, ticks, ear mites, heartworms, and intestinal worms. This comprehensive approach simplifies parasite control and reduces the need for multiple medications.
Proper Usage of Spot-on Treatments
 Choose the Right Product: Consult with your veterinarian to determine the most suitable spot-on treatment for your cat's specific needs. Factors to consider include the cat's age, weight, health condition, and the prevalence of parasites in your area.
Read and Follow Instructions: Carefully read the instructions provided by the manufacturer before applying the spot-on treatment. Follow the recommended dosage, application technique, and frequency of use. Incorrect usage may compromise the effectiveness and safety of the product.
Correct Application: Part the fur on the back of the cat's neck, exposing a small area of skin. Apply the spot-on treatment directly to the skin, ensuring it is not applied to the fur. Squeeze the applicator firmly to dispense the medication.
Prevent Licking: After applying the spot-on treatment, prevent the cat from licking the treated area for a few minutes to allow the solution to dry. This reduces the chances of ingestion and ensures optimal absorption.
Monitor for Adverse Reactions: Keep an eye on your cat for any signs of adverse reactions, such as excessive scratching, redness, irritation, or lethargy. If you notice any unusual symptoms, contact your veterinarian immediately.
Regular Application: Follow the recommended application schedule to maintain continuous protection. Missing doses may leave your cat vulnerable to parasites.
Some Popular Spot-on Treatments for Cats available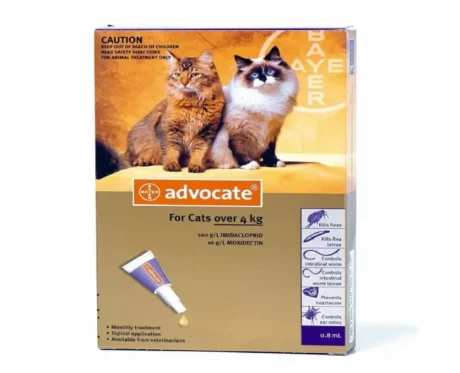 Bayer Elanco Advocate Spot On for cats (4-8kg) is a popular and widely used topical treatment for the prevention and control of various parasites in cats. This easy-to-use spot-on product provides comprehensive protection against fleas, heartworms, intestinal worms, ear mites, and sarcoptic mange. Its broad-spectrum action eliminates adult fleas and prevents the development of flea eggs and larvae, effectively breaking the flea life cycle.
By killing microfilariae transmitted by mosquitoes, Bayer Elanco Advocate Spot On for cats safeguards cats from heartworm disease. It also effectively controls and prevents common intestinal worms, including roundworms and hookworms. Furthermore, it treats and controls ear mite infestations, relieving cats from the discomfort and irritation caused by these parasites. With its water-resistant and long-lasting formulation, Bayer Elanco Advocate Spot On for cats ensures ongoing protection for a month. The application is simple and convenient, with pre-measured pipettes designed for easy and accurate dosage administration. BUY HERE !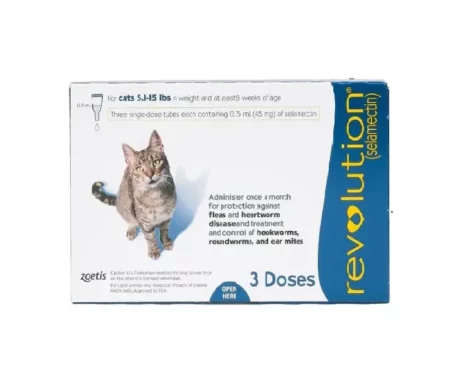 Zoetis Revolution Spot-on treatments for cats is a highly regarded and trusted spot-on treatment for cats. Revolution is known for its broad-spectrum protection against a range of parasites, making it a comprehensive solution for feline parasite control. Zoetis Revolution Cat Spot-On is a powerful and effective treatment that provides multi-parasite protection for cats. It targets fleas, ticks, ear mites, and intestinal worms, ensuring thorough parasite control. The spot-on formulation allows for easy and precise application, making it convenient for cat owners.
This product's wide-ranging effectiveness not only eliminates adult fleas and ticks but also prevents the development of flea eggs, breaking the life cycle of these pests. It also treats ear mites, relieving cats from discomfort and irritation. Additionally, Revolution Cat Spot-On helps prevent heartworm disease by killing microfilariae transmitted by mosquitoes. Its ability to control intestinal worms further enhances its comprehensive parasite protection. With its long-lasting efficacy, Revolution provides continuous protection for up to a month, ensuring the well-being and health of cats. Zoetis Revolution Cat Spot-On is a trusted choice for cat owners who seek a reliable and all-encompassing solution for their cat's parasite control needs. BUY HERE !
Conclusion
Spot-on treatments for cats offer numerous benefits, including comprehensive parasite protection, ease of application, and long-lasting effectiveness. With their convenient topical format