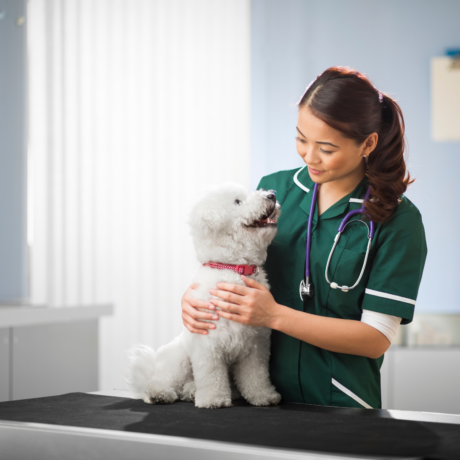 Safeguarding Your Furry Friend's Health: The Importance of Puppy Dewormer & Dog Dewormer
As a devoted pet owner, ensuring the well-being of your furry companion is a top priority. Among the many essential aspects of pet care, one crucial consideration is preventing and treating parasitic worm infestations. Introducing puppy dewormers and dog dewormers to your pet's routine can significantly contribute to their overall health and happiness. In this blog, we'll delve into the significance of deworming, the types of dewormers available, and how they can make a substantial difference in your beloved dog's life.
The Centers for Disease Control and Prevention recommends deworming treatments at 2, 4, 6, and 8 weeks of age for puppies,as well as concurrent treatments given to the mother to eliminate reactivated larvae and prevent horizontal transmission from puppies that may be shedding roundworm and hookworm eggs.They also recommend deworming treatments at 3, 5, 7, and 9 weeks of age for kittens and the mother. Additionally, the Companion Animal Parasite Council (CAPC) further recommends quarterly treatments for all adult dogs and cats, depending on animal health and lifestyle factors.
Why Puppy Dewormer & Dog Dewormer Are Crucial?
Parasitic worms like roundworms, hookworms, tapeworms, and whipworms are common health concerns for dogs of all ages. Puppies, in particular, are more susceptible to these pesky invaders due to their developing immune systems. Worm infestations can lead to a variety of health issues, including lethargy, weight loss, diarrhea, and even more severe complications if left untreated. Puppy dewormers and dog dewormers play a pivotal role in keeping these parasites at bay and maintaining your pet's health.
The Types of Dewormers Available
The market offers a range of dewormers to cater to your dog's specific needs. Some of the most common forms include:
1. **Oral Tablets:** Oral dewormers are easy to administer and come in various flavors to entice even the pickiest eaters.
2. **Liquid Suspensions:** These provide an excellent alternative for dogs who have difficulty swallowing tablets.
3. **Topical Treatments:** Some dewormers come in topical forms, which can be applied externally and absorbed through the skin.
When to Deworm Your Pet ?
Regular deworming is key to preventing worm infestations and maintaining your dog's health. Puppies should begin their deworming regimen as early as two weeks of age, followed by repeated treatments every few weeks until they reach adulthood. For adult dogs, it's recommended to deworm them at least two to four times a year, depending on their lifestyle and risk factors. Consult your veterinarian to determine the most suitable deworming schedule for your furry companion.
Choosing the Right Dewormer
With a plethora of options available, it can be overwhelming to select the best dewormer for your pet. Remember, each dog's needs are unique, and it's essential to consider factors such as breed, size, age, and overall health when making your decision. Consult your veterinarian to get professional advice on the most appropriate puppy dewormer or dog dewormer for your four-legged friend.
The Benefits of Veterinary-Recommended Dewormers
Opting for veterinarian-recommended dewormers, like those offered by our esteemed brand, ensures that your pet receives the most effective and safe treatment. These specialized diets are specifically formulated to address various health issues, providing tailored nutrition to support your pet's overall well-being while managing medical conditions.
Some Vet Recommended Dewormers for Puppy & Adult Dogs available
Worex Suspension Puppy Dewormer Liquid is a specialized veterinary product designed to effectively eliminate intestinal worms in puppies. Worm infestations are a common health concern for puppies, and Worex provides a safe and reliable solution to combat this issue. This liquid dewormer is formulated with precise care to cater to the unique needs of young puppies and is trusted by veterinarians for its efficacy and safety. BUY NOW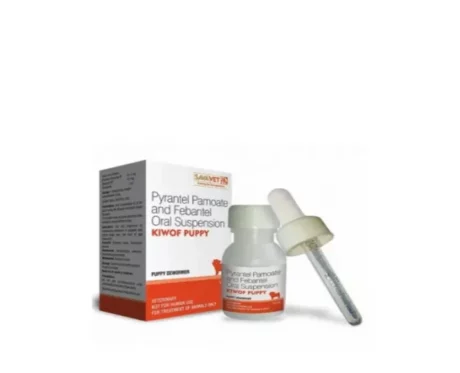 SAVAVET Kiwoff Puppy Deworming Syrup is specially formulated to target and eliminate various types of intestinal worms commonly found in puppies. The syrup is suitable for puppies of all breeds and sizes, providing tailored deworming for the specific needs of growing canines.Each milliliter of the syrup contains a powerful combination of active ingredients, including Praziquantel, Pyrantel Pamoate, and Febantel. These ingredients work synergistically to combat roundworms, hookworms, whipworms, and tapeworms, effectively protecting your young canine companions against parasitic infections.BUY NOW.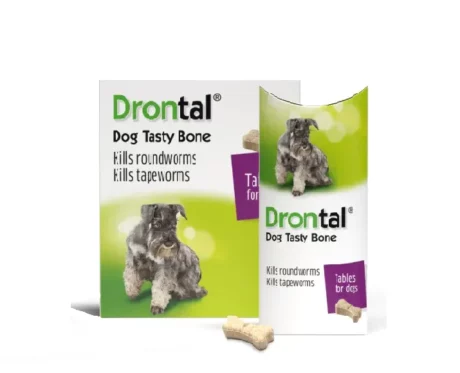 Drontal plus tasty bone dewormer from Bayer Elanco is one of the most popular and effective dewormers for dogs. Effectively kills and expels intestinal worms lie tapeworms, hookworms, roundworms, whipworms etc.Suitable for puppies and dogs of age above 6 months in different doses.Ingredients: Praziquantel USP 50mg, Pyrantel Embonate USP 144mg, Febantel 150mg in each tab.Dosage: 1 tab per 10kg bodyweight or as recommended by a registered practicing veterinarian.. BUY NOW.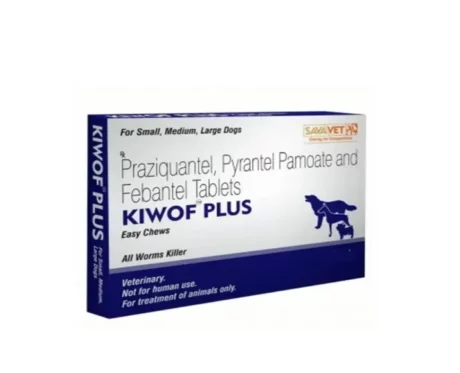 SAVAVET Kiwof Plus Deworming Tablets are formulated to target and eliminate various types of intestinal worms commonly found in dogs. Tablets are suitable for both puppies and adult dogs, making it a versatile deworming option for multi-dog households.The correct dosage for SAVAVET Kiwof Plus Deworming Tablets for both puppies & adult dogs is based on their weight ( 1 Tab – 10 Kg). It is essential to follow the specific dosage instructions provided on product label or as advised by your veterinarian. BUY NOW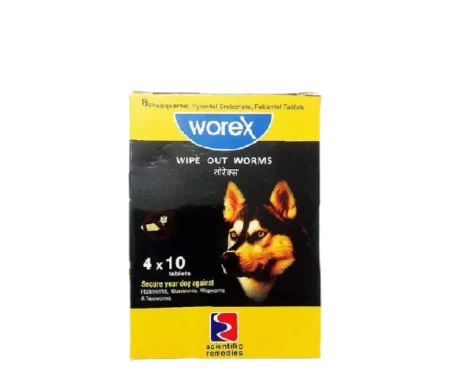 Worex Deworming Tablet is a broad-spectrum dewormer designed specifically for adult dogs. It comes in the form of easy-to-administer tablets, making the deworming process stress-free for both you & your pet. Each tablet is formulated to target & eliminate various types of intestinal worms, ensuring your dog's well-being. Generally, recommended dosage is 1 tablet per 10 kilograms (22 pounds) of body weight. For example, if your dog weighs 20 kilograms (44 pounds), the correct dosage would be 2 tablets. BUY NOW
SAVAVET Kiwof Plus Deworming Tablets Large breed XL Adult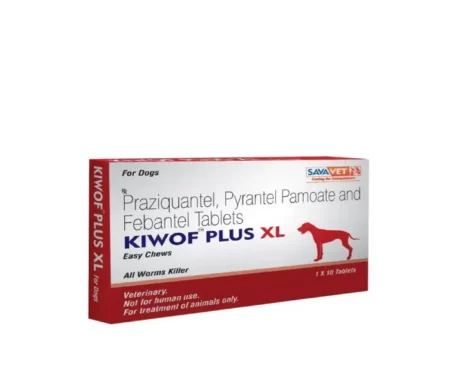 This broad spectrum dewormer from Savavet is especially suitable for large and extra large dogs of over 17.5kg weight. Safe, single dose for all kinds of intestinal worms. Kills and expels worms like tape worms, hook worms, whip worms, ascarids etc. XL variant helps minimize giving multiple tabs to large dogs for deworming. Suitable for large and extra large dogs only. Not for small dogs and cats.Each chewable tablet contains Praziquantel IP 175 mg, Pyrantel Pamoate IP 504 mg, & Febantel 525 mg. Dosage: 1/2 tab per 17.5kg body weight or 1 tab per 35kg body weight. BUY NOW.
Worex Deworming XL Large breed Adult Dog Tablets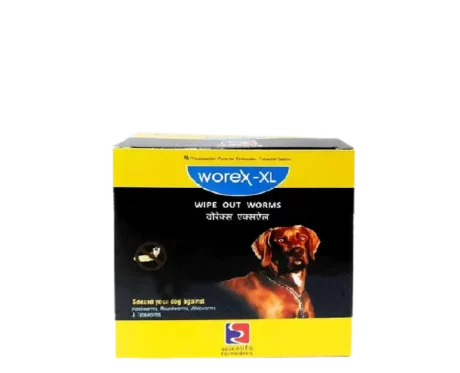 Worex Deworming XL Large Breed Adult Dog Tablets are specifically formulated to meet the unique needs of large breed adult dogs. Each tablet contains powerful active ingredients that target and eliminate a broad spectrum of intestinal parasites commonly found in dogs. This includes roundworms, hookworms, whipworms, and tapeworms, which can be transmitted through contaminated food, water, or feces of infected animals. It is generally recommended to administer 1 tablet per 35 kilograms of body weight. Always weigh your dog accurately before administering the deworming tablets to ensure the correct dosage. BUY NOW.
Conclusion
As a loving pet owner, it's vital to stay proactive in safeguarding your dog's health against parasitic worms. Regular use of puppy dewormers and dog dewormers can prevent infestations, keeping your furry companion happy, healthy, and full of life. Remember to consult your veterinarian for guidance on the best deworming regimen and choose high-quality, veterinary-recommended products to provide the best care for your beloved four-legged family member. Together, we can ensure a bright and worm-free future for our furry friends!