Why Does my dog eat so quickly ?
This may sound familiar to you. The instant the kibble is placed in your dog's bowl, bang! Your dog hoovers it up like a vacuum cleaner. You start to wonder whether your dog is practicing for a "who can eat the fastest" race because that dry food disappears so quickly.
You could question whether this is normal. Could eating like a starving animal have any negative effects? Yes, in some instances. Gastric dilatation-volvulus, another name for it, can cause bloating, stomach discomfort, and vomiting (GDV). It could also be a sign of other illnesses. Even though not all fast eaters have digestive problems, it doesn't harm to try to slow down your dog's eating and encourage it to chew its food. Slower eating promotes healthy digestion.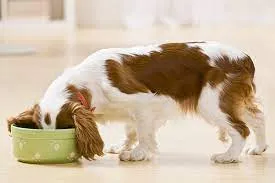 Reasons why your dog eat so quickly : 
Instinctual Gulping, Some dogs have an innate need to eat quickly. If you have more than one pet, your dog may feel compelled to eat their meal before someone else does. This drive may be very strong. This is true for littermates or even households with two dogs, where the older dog chews food delicately while the younger dog eats like the house is on fire and he needs to finish his meal before running away.
Even when they are treated like pets, some dogs have an instinct to swallow down their meal in one motion. Some puppies, whether purebred or rescue dogs, eat quickly.However, it's a little rare when your dog switches from being an average eater to one who eats quickly.
Behavioral Change, While some dogs may always view mealtime as a competition for a shiny reward, scheduling a vet visit is a smart idea if your dog suddenly stops enjoying their food and starts gorging on it quickly.
Any time your dog's behavior changes, it could be a sign of a medical problem. It can be a sign of parasites if your normal eating habits suddenly shift to a hurried gobble. This is because parasites deprive your dog of nutrients, leaving him restless. Once your dog has been properly diagnosed, treating them just requires a few medications.
Maybe Your Dog Doesn't Like the Food , ome dogs have particular food preferences, especially elderly dogs who may do so and stop eating the very same old feed. To get their picky adult dogs to eat, dog owners frequently switch up the brands of their dogs' food, combine wet and dry food, or add enticing mix-ins.
Typically, these are not the gulpers. Some people believe that such dogs eat quickly because they are starving and try to fill their stomachs as shortly as possible.
Risks:
The Digestive System's Function : Mastication, or chewing, lessens stomach issues. The mouth and teeth of your dog are crucial for breaking down food so that the rest of the system may function properly.The tiny chunks of food that your dog takes after chewing it pass through the pancreas, intestines, and finally, the colon for waste removal.The entire system may malfunction and result in health problems if any component is obstructed or not functioning properly. The process begins with chewing the food.
The Risks of Consuming Whole Foods: Smaller dietary portions are simpler to digest. Dogs' digestive systems have to work harder to digest food when it is hoovered.Habitual fast eating can occasionally result in potentially fatal medical problems including gastric dilatation-volvulus (GDV), which creates an enlarged abdomen. The issue arises from the fact that your dog gulps down a lot of air when they eat quickly.
All that additional air can cause bloating, and unlike when you or I experience bloating, we can consume an antacid to feel better, dog bloating can be fatal. This is due to the fact that when your dog swallows their meal, along with any accompanying air, their stomach can rotate, trapping gas and air and cutting off their stomach's blood supply.It hurts as much as it sounds and is far more than just an upset stomach. Even worse, it can quickly kill your dog.
The sole option for treatment is to bring your dog to the emergency vet clinic as soon as you can, where they can assist with gas release and keep an eye on the heart. Some dog breeds are more vulnerable than others because of their barrel chests, such as Great Danes and St. Bernard.Before you freak out, remember that your dog could also have an enlarged stomach and an upset stomach without having this risky GDV. But a veterinarian is the only one who can identify it.
Your dog is not a chewer. How Can They Be Slowed Down?
Giving your dog a treat-dispensing toy packed with kibble is another way to make mealtime fun. As a reward, your dog will paw the dog toy and roll it around on the floor as it dribbles out dry food. Additionally, this stimulates your dog's mind, which is vital. Check out Some Dog treat despensing toys here.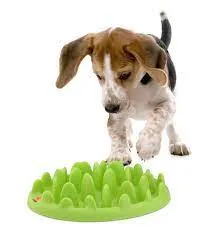 Slow-feeder bowls:  often known as puzzle bowls, are beneficial. Puzzle toys slow your dog's mouth and make him chew his food by adding barriers to the bowls in the form of pins or mazes. That is useful, even if he merely divides the kibble into one or two smaller bites. Explore some Dog Bowls here.
We've known individuals who lay the kibble out on the ground to slow down their dog's eating.
In Conclusion
Advantages of Having Your Dog Chew Food are many.Dogs that take their time eating are less likely to experience stomach problems. They can chew their food, swallow it, and let the digestive system do its work rather than inhaling it and throwing it up or, worse, getting deadly stomach bloat.